Twila V. Searl, 89 of Silvis, formerly of Port Byron died Sunday, December 27, 2009 at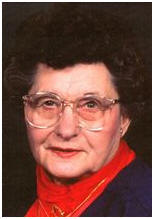 Genesis Medical Center, Illini Campus, Silvis. Services will be 10:00 AM Wednesday at the Church of the Cross, Port Byron. Burial will be in Zuma Cemetery, Port Byron. Visitation will be on Wednesday from 9:00 AM to service time. Memorials may be made to the Church of the Cross or the American Parkinsonís Association.
The former Twila Verlee Denhardt was born October 26, 1920 in Muscatine, IA to Thomas and Gladys (State) Denhardt. She married John Searl on November 26, 1955 in East Moline, Illinois. They raised and sold Christmas trees for many years. Twila also worked for a time at Ametec and Royal Neighbors.
She was a member of the Church of The Cross, Port Byron and Royal Neighbors. Twila is survived by a sister, Marian Thompson, East Moline and several generations of nieces and nephews. She was preceded in death by her husband, John on December 9, 2004.